Free 5-Day Campus Pass Trial
For Excel users who want to get their work done faster NOW ... WITHOUT spending years searching the web for tips and tricks.
I used everything I learned about saving time with Excel to develop a complete Excel training system that will help you learn Excel fast.
Start Your Free Trial Today
You can start a 5-day Campus Pass trial and begin learning to save time today. After the trial, you'll automatically be registered for a monthly Campus Pass subscription. It is a month-to-month subscription with no minimum term ... cancel anytime, even after one month.
Monthly rate drops as you complete key training milestones: $78 > $68 > $58
Note: registration closes soon
Need CPE Credit?
Are you a CPA and want to earn CPE credit? Check out a 7-day free trial of our CPE Pass which is offered for 124 CPE. It is like a Campus Pass but with CPE credit 🙂
Note: the CPE Pass does not have a monthly billing option; it is only offered with an annual subscription.
INCLUDES: On-Demand Training PLUS Live Office Hours
The Campus Pass provides on-demand training videos that you can stream on YOUR schedule.
PLUS live zoom calls with me so you can ask me any Excel questions (even on your own projects).
PLUS live zoom calls with our Student Advisor for new student orientations.
PLUS live zoom calls with our TAs who hold regular study halls to help you work through the training material if needed.
Note: attendance at the zoom calls is not required; these optional meetings are provided as a benefit to help ensure students WILL be successful.
The Campus Pass is an all-in-one program where you'll learn:
A consistent PROCESS to apply to all of your recurring-use workbooks to optimize them for efficiency and accuracy
The CORE Excel skills you'll use over and over in your workbooks ... and how they fit together
The AUTOMATION skills you'll use to minimize manual steps in your recurring-use workbooks
Hear how our training helps our students (who are Excel Rock Stars) ...
Give it a try - risk free
Try the Campus Pass FREE for 5 days.
Keep it if you like it. Cancel it if you don't.
Note: registration closes soon
Looking to earn CPE Credit?
We also offer an annual CPE Pass, which is basically like a Campus Pass but with 124 CPE credits.
Here's what's included in our Campus Pass
Step 1: Learn the Speed Loop® process
Send all of your recurring-use workbooks through this process to optimize them for efficiency and accuracy
Prepare each workbook for the loop
Replace each manual step with a corresponding Excel feature or function
Rebuild the workbook to leverage time savings and maximize efficiency
Step 2: Learn core skills in the Undergraduate lessons
Focus only on the key features and functions you'll use over and over
Become proficient with them so you know how they work
Learn to combine them in various ways depending on your specific workbooks
Step 3: Learn automation tools in the Masters lessons
Explore the tools that will dramatically streamline your workbooks
Power Query and Power Pivot are designed to completely transform your recurring-use workbooks
Macros and VBA will get Excel to do the routine manual tasks
Excel University Certifications
Excel University Graduate Certification
Upon completion of the Undergrad lessons, you'll unlock the Excel University Graduate Certification which you can place on your LinkedIn or resume/cv.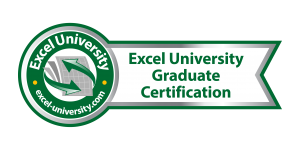 Excel University Masters Certification
Upon completion of the masters lessons, you'll unlock the Excel University Masters Certification which you can place on your LinkedIn or resume/cv.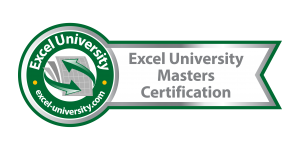 I KNOW YOU'VE BEEN TELLING YOURSELF:
"I just need more time to train."
IT'S NOT TRUE
HERE'S THE TRUTH:
"You need to train to have more time."
You'll be saving time within the first couple of lessons, and then you can leverage that time to train and learn more. It will be a big automation snowball!
Your Journey Begins Now
Free 5-day Campus Pass Trial.
If you like it, keep it and continue on a month-to-month basis. Cancel it anytime.
Note: registration closes soon
FAQs
Do I have to be at a certain skill level? 
I've intentionally designed the Campus Pass to help Excel users at all levels. Here's how. The lessons proceed in order, starting at the beginning. But, students can skip around to lessons as desired. For example, if you already know VLOOKUP you can skip that video and related exercises.
Will the training be too difficult?
I have implemented everything I learned about teaching Excel over the past decade. And as a result, I use common language to explain concepts rather than trying to make myself sound smart by using techie terms and acronyms. I use everyday plain language to make the technical topics easy to understand. I teach each topic in a specific order so that skills are introduced at exactly the right time (not too early) and each lesson builds on the last. That way, there is nothing introduced that is a difficult surprise.
Which version of Excel is required?
The core skills taught in the undergraduate lessons are available in most Excel versions, including Excel for Windows, Mac, and online. However, the automation skills taught in the masters lessons require a fairly modern version of Excel for Windows that includes Power Query and Power Pivot.
Is it hard to cancel the subscription?
It is easy to cancel. Just login and click Administration > Manage Subscription. You don't need to call anyone. It's all good.
Will I forget about the subscription (and forget to cancel)?
You won't forget that you have a subscription because I will be present in your email inbox delivering weekly Excel articles. So, no ... you won't forget about me, or Excel University, or your subscription.
How much time will it take?
Given that students arrive with different experience levels and goals, it is hard to say for sure. Some students want to watch all videos, complete all exercises, all extra credit exercises, read all text, review all of the additional resources, complete all puzzles and gamification elements, and so on. Whereas some students simply want to watch the videos. I've designed the program so that you can choose your own adventure. You can work through the material as fast or slow as you'd like ... at YOUR own desired pace. It is really up to you.
Can't I just figure all of this out on my own?
Well ... maybe ... but that will take way to long. As Steve Jobs said, Time is our most precious resource. My training program is designed to help you learn Excel in the most efficient and effective possible way.