Free Kindle Version of EU V2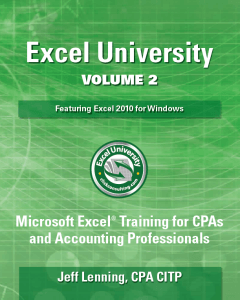 To help celebrate the conclusion of the traditional busy-season, I'm pleased to announce that we are giving away free digital copies of Excel University Volume 2 on April 16, 2014. You can download the book directly from Amazon and read it with a Kindle device or with the free Kindle app.
The book can be used as a companion to the online training course or independently as a self-contained training manual.
Please tell your friends about this free download, and, if you'd like to help me spread the word, ratings and unbiased reviews on the Amazon book page would really help out!
The download is available on one day only, April 16, 2014, and here are the relevant links:
I hope the features, functions, and techniques discussed help improve your productivity, and remember, Excel rules!
Stay Connected
If you'd like to be notified when I write a new Excel article, enter your name and email and click SUBSCRIBE. You can unsubscribe anytime, and I will never sell your email address.
Want to learn Excel?
Our Campus Pass includes access to our entire Undergrad and Masters catalog. Gamification ensures it is the most fun you can have learning Excel :)
Learn by Email
Subscribe to Blog (free)