Free Kindle Version of Excel University Volume 2
Just wanted to let you know that Friday November 29, 2013, Amazon will be making the Kindle version of Excel University Volume 2 available for free!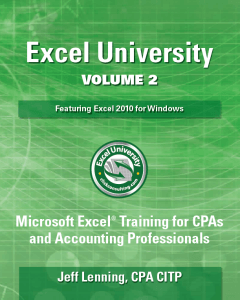 http://www.amazon.com/dp/B00FX8X1LE 
Pssst….pass it on!
Stay Connected
If you'd like to be notified when I write a new Excel article, enter your name and email and click SUBSCRIBE. You can unsubscribe anytime, and I will never sell your email address.
Want to learn Excel?
Our Campus Pass includes access to our entire Undergrad and Masters catalog. Gamification ensures it is the most fun you can have learning Excel :)
Learn by Email
Subscribe to Blog (free)