Excel University offers two Excel certification training programs. They are both designed to provide the Excel skills that can help you get your work done fast. They can be earned by taking the required Courses or with a Campus Pass.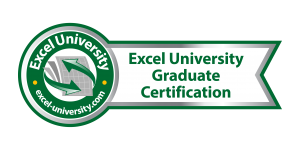 Once you complete the four Undergraduate courses, you earn the Excel University Graduate Certification. The Undergrad courses teach classic Excel features and functions for example, VLOOKUP, SUMIFS, INDEX, MATCH, EOMONTH, PivotTables, Data Validation, Conditional formatting, Defined Names, and more.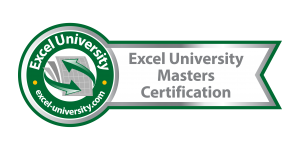 Once you complete the two Masters courses, you earn the Excel University Masters Certification. The Masters courses teach more technical topics such as Power Query, Power Pivot, Power BI, table and graph design, and VBA/Macros. If you are comfortable with the Undergrad topics, you can enroll directly in the Masters courses.
Learn Excel and Earn a Certification
These certification programs are primarily about learning Excel. By earning the certification, you are able to display your skills to others. Including these certifications on your LinkedIn/Resume/CV will demonstrate your Excel proficiency - plus we write a LinkedIn recommendation once you complete either certification program. The certifications can be earned through our Courses (with CPE credit) or our Campus Pass (without CPE credit).
Registration is open year-round, and the training is delivered on-demand so you work at your own pace.
Both certifications are available in our Campus Pass or by enrolling into the Undergraduate and Masters Courses.
Our lessons are delivered with on-demand lecture videos, homework activities you can use to practice the topics discussed, quizzes to reinforce content, and many additional resources, including solutions, related blog posts, and handouts.
Upon completion, you'll be able to do amazing things with Excel!
These certifications are available with our Campus Pass. Our Campus Pass provides access to our entire catalog of Undergraduate and Masters catalog. It is available as a monthly subscription with no minimum term. A Campus Pass is not available for CPE credit.
Courses and CPE Credit
Excel University is a NASBA-approved CPE sponsor, and as such, our Courses are offered for CPE (Continuing Professional Education) credit for CPAs and other professionals who require it.
The Undergraduate courses earn a total of 55 CPE hours of QAS self-study continuing professional education credit. CPE is earned at the end of each course, as follows:
Volume 1 - 9 CPE
Volume 2 - 11 CPE
Volume 3 - 15 CPE
Volume 4 - 20 CPE
Note: in prior years we offered an accelerated undergraduate program that combined all four undergrad courses and it provided 40 CPE credits as follows:
6 CPE hours when you pass the Freshman exam
12 CPE hours when you pass the Sophomore exam
10 CPE hours when you pass the Junior exam
12 CPE hours when you pass the Senior exam
The Masters courses earn a total of 46 CPE credits, as follows:
Masters 1 - 19 CPE
Masters 2 - 27 CPE (16 for part 1; 11 for part 2)
Even if you do not require CPE credit, you will benefit from the high quality standards to which we are bound. CPE sponsors are subject to rigorous educational standards, and as a result, students enjoy the highest quality training experience available.
FAQs
How can I display my certification?
You'll receive a digital certificate and badge which may be displayed on your LinkedIn profile, resume, cv, or anywhere else. Instructions for adding the certificate to your LinkedIn profile are provided.
What is the cost?
We offer a variety of discounted bundles and group-enrollment discounts, so just check out our full catalog for details.
Are the videos captioned?
Yes! All videos in the six Excel University courses are captioned in English.
How long do I have to complete courses?
The total enrollment period for our Courses is one year. You may complete the exams in any order at any time during the enrollment period. The one-year enrollment period is set by NASBA, and as a CPE sponsor, Excel University is bound by this term. We are unable to extend the enrollment period.
How long will it take me to complete courses?
The amount of time you spend depends on your goals and experience level. On average, the number of CPE credits offered is a good indication of the number of hours it takes to complete each course. For example, Volume 1 is offered for 9 CPE credits, so on average, it will take about 9 hours to complete. But, our courses are truly on-demand, so you'll work at your own pace during the enrollment period.
You may move quickly through familiar topics or features you may not use in your work. There may be topics that are new and very relevant, so you may decide to spend more time in these areas.