Excel Power Tools 6-Week Bootcamp
Let's make life a little LESS BUSY
Learn Excel's power tools: Power Query and Power Pivot
Weekly email summarizes each assignment
Only requires about 2-4 hours per week for 6 weeks
One year access to the on-demand lessons
Streamline your reports and work more efficiently this busy season
CPA? Earn 19 CPE credits while learning how to save time with Excel
Who should attend?
Busy accountants who want the biggest impact in the shortest time
Excel users who want to streamline their work
Professionals who want to leverage technology to work smarter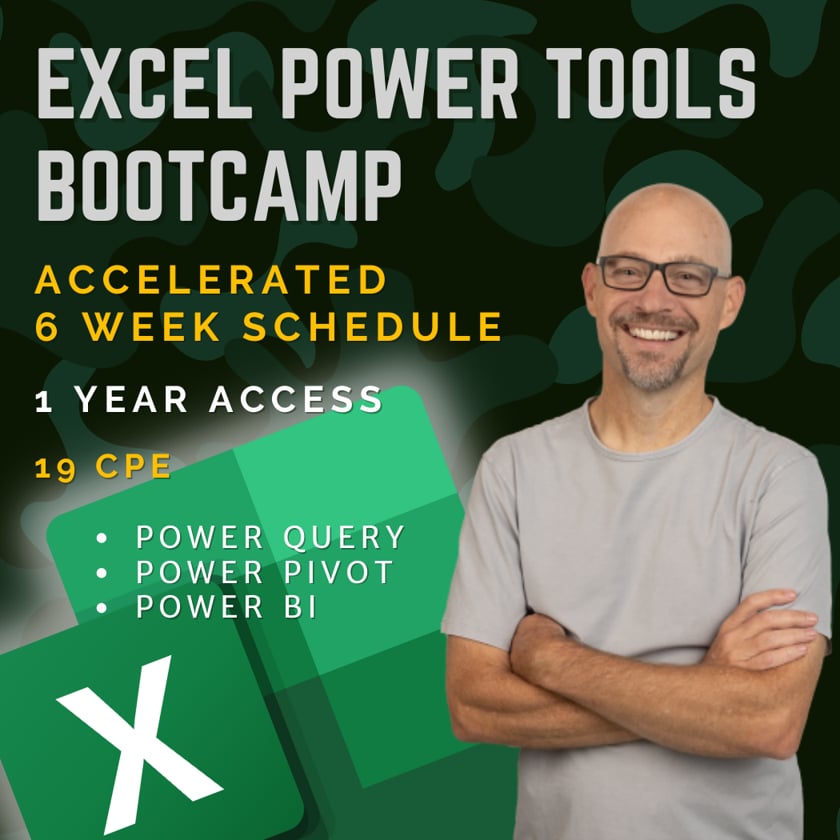 General Registration: Open
Excel Power Tools Bootcamp: $250/person
6-Week Suggested Schedule
1-Year Full Access to All On-demand Lessons
Work more efficiently after learning how to use Excel's Power Tools (Power Query and Power Pivot).
1 Year Full Access
Access to the on-demand videos and files so you can pause, rewind, and change video playback speed.
1-Year full access
Includes access to the on-demand videos and files
Lessons are on-demand (not scheduled live) so you login and work at your own pace/schedule
6 Week Suggested Schedule with Weekly Email
Each Monday of the Bootcamp, receive an email that identifies the goals and the assigned lesson for the week.
We have a weekly suggested assignment for 6 weeks
Plan to spend 2-4 hours per week
Lesson are ON-DEMAND (not scheduled live) so you can work at your own pace/schedule
19 CPE Credits for CPAs
Earn 19 CPE after completing the final exam with a passing score of 70%, per NASBA. Unlimited exam re-attempts. The lessons come from the Excel University Masters 1 course, and each lesson contains the following items:
On-demand lecture videos (with captions)
Hands-on case study assignment
Answer files
Additional resources
Student Success Guarantee
Registration comes with our Student Success Guarantee.
Unconditional 30-day refund: 30-day full refund. Any reason. Simple.

Don't Take My Word For It
Hear directly from Excel University students in this short video clip.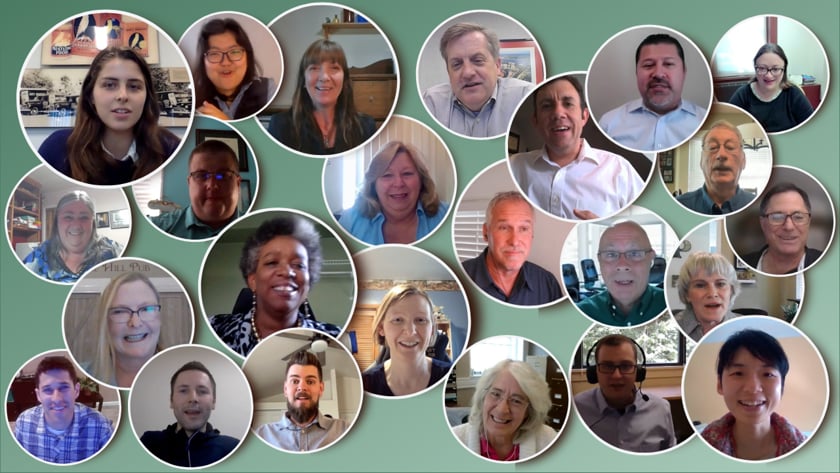 Registration - Let's Do This!
Registration Summary
1-Year full access to all materials
Learn how to use Power Query and Power Pivot
6-Week accelerated schedule (optional)
You'll be ready to make life less busy
Earn 19 CPE
Lessons are on-demand (not scheduled live)
Work at your own pace during the 1 year enrollment
$250 per student
Excel Power Tools Bootcamp (19 CPE)
6-Week Accelerated Schedule.
1-Year Full Access.
$250
TO REGISTER A GROUP: during checkout, change the cart quantity to the number of desired students. After checkout, you'll gain access to the Manage Licenses screen where you'll assign the licenses to your students. Our system will notify them with login information. More info the FAQs below.
I'm Not Ready Now - Maybe Next Year
If you aren't ready to register, add yourself to our waitlist and we'll be in touch when it opens again next year!
How do I register a group?
Use the Register Now button
Change the cart quantity to the desired number of students
Create your Training Coordinator username/password during checkout
After checkout, use the provided link to open the Manage Licenses screen
Create your list of students (full name/email)
Click Enroll
Our system will email each student with access information
More info about managing licenses
How long do I have access?
You have full access to all materials during the 1 year enrollment period.
The 6-Week Bootcamp is an accelerated schedule that includes a weekly email to keep you moving forward quickly. You do not need to stick with this suggested schedule.
CPE Credit for CPAs
1 Year to earn CPE.
CPE is issued at the completion of the program.
See below for additional CPE information, such as recommended CPE hours, delivery format, learning objectives, and more.
Do I have to be at a certain skill level? 
This program is designed for people who have been using Excel for a while, feel comfortable, and have used PivotTables before.
This program is not designed for beginners.
Which version of Excel is required?
Excel for Windows 2013 or later. Excel for Mac is not supported.
The Excel tools we focus on are Power Query and Power Pivot. These are included in Excel for Windows.
Students who want to work on the OPTIONAL Power BI exercises will need to download the free Power BI desktop application. This is optional.
How much time will it take?
Students arrive with various experience levels, goals, and skills ... so it is hard to say with precision how long it will take each student to complete the program. However, there are 19 CPE hours earned, so, I would estimate that it will take about 19 hours on average to complete the program.
Students working through the 6 Week Suggested Schedule can plan for approximately 2-4 hours per week.
There are no scheduled/live sessions, so you login and work according to your own schedule/pace during the 1 year enrollment period.
Can't I just figure all of this out on my own?
Well ... maybe ... but that will take way to long. As Steve Jobs said, Time is our most precious resource. My training program is designed to help you learn Excel in the most efficient and effective possible way.
CPE Information
Instructor: Jeff Lenning CPA
Recommended Software: Excel for Windows (2013 or later)
Program Level: Basic
Prerequisites: Although there are no course prerequisites, prior experience with traditional PivotTables is recommended.
Advance Preparation Needed: Ensure you have access to Excel for Windows (version 2013 or later), so that you can work through the homework exercises. Plus, you'll want to download Power BI desktop (free) if you want to work on the optional Power BI exercises. Excel for Mac is not supported.
Delivery Method: QAS Self-Study (on-demand)
Expiration: 1 Year
Refund Policy: full refund within 30 days or until you earn any CPE
Field of Study: Computer Software & Applications
Access Begins: Immediately
Certificates of completion: Download with a passing exam score
Recommended CPE: 19
Materials: all materials are digital (no printed textbooks)
Objectives: Recall which type of graph is useful to feature a given relationship (nominal, ranking, part-to-whole, time series, distribution, deviation, correlation, and geospatial). Identify the Excel feature that summarizes values and displays them in rows and columns and includes totals. Recall which tool is designed to get and transform data. State the Excel feature that creates a graph. Recall which tool allows you to relate multiple tables and write measures for use in a report. Recognize that an explicit measure is written in Power Pivot. Recall which application incorporates the same technologies included in Power Query and Power Pivot.
Complaint Resolution: contact us at 949-200-7688 or [email protected]
Official Registry Statement: Excel University, Inc. is registered with the National Association of State Boards of Accountancy (NASBA) as a sponsor of continuing professional education on the National Registry of Sponsors. State boards of accountancy have final authority on the acceptance of individual programs for CPE credit. Complaints regarding registered sponsors may be submitted to the National Registry of CPE Sponsors through its website nasbaregistry.org.