Excel Speed Loop
The Excel Speed Loop is the method that helped me reduce the time to update my workbooks from 2 weeks per month to 2 days per month.
I was an accountant in industry, sitting in my cube updating tons of Excel workbooks. I was stressed out and cranky because I had more work than time. I worked late nights and weekends and often felt anxious at work and home. I developed an informal system and a variety of Excel skills that helped me get my work done faster. I have formalized the method (aka framework, approach, system, process, cycle), and call it the Excel Speed Loop.
The Speed Loop is what I used to get my schedule under control, feel relaxed at work, and have a better work/life balance. What used to take 2 weeks per month was now getting done in 2 days, and I had more time than work.
I teach this method free, and I hope it can help you as well. Here is a quick overview.
Investor Mindset
I use an investor metaphor to teach the Speed Loop. An investor makes a financial investment, hopes the asset appreciates in value, and expects to realize a gain upon sale. That is, the investor seeks to get more back than what was invested.
Here, we are investing time (precious resource), appreciating the assets (improving our workbooks), and expecting to realize a gain (saving more time than invested).
This investor mindset helps keep us focused on the task at hand: improving our recurring-use Excel workbooks to save time and get our work done faster each period.
Invest Time
Our goal here is to locate our recurring-use workbooks and prepare them for the Speed Loop.
Identify – recurring project workbooks (these can provide future efficiency dividends)
Insert – lead sheets (a set of standard worksheets)
Appreciate Assets
Our goal here is to incrementally improve the workbooks over several cycles
Automate – manual update tasks based on current Excel skills
Anticipate – errors and prevent and/or detect them
Accumulate – additional Excel skills needed to automate more tasks next period
Realize Gain
Our goal here is to leverage our time savings and reinvest our efficiency dividends
Rebuild – the set of workbooks as a whole, from scratch
Reinvest – locate the next set of recurring project workbooks, and go around again
Free Webinar + Implementation Guide + Excel Template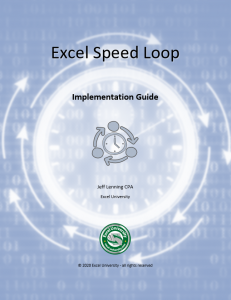 If you'd like to dig into the details, I actually teach the Speed Loop free in a pre-recorded webinar.
The webinar is a better format for teaching because I can talk about the steps in detail and share my screen to demonstrate.
Plus, I actually take a sample workbook and go through several automation steps: centralizing input cells, converting ordinary ranges to tables, converting static values to formulas, converting formula-reports to PivotTables, and converting manual copy/paste with Power Query.
It is super fun, and the details really make the Speed Loop more concrete and easy to understand.
The complimentary 1-hour webinar provides step-by-step "how to" instructions with Excel demonstrations. The handouts include the Speed Loop Implementation Guide (PDF) as well as the Excel Lead Sheets Template (xlsx workbook) which you can swipe and adapt to your situation.
You can register free here:
Notes:
The webinar is free
The webinar is pre-recorded and will start at the beginning
If you don't have time to watch it now, register and the system will email you a link so you can watch it later
Your registration includes a free subscription to the Excel University blog
The webinar handouts include the Speed Loop Implementation Guide PDF
I also provide a lead sheets template which contains standard sheets to insert
The webinar is not offered for CPE credit
The webinar is presented by Jeff Lenning CPA