Excel University
I love sharing the things I've learned about Excel over the years. Especially the things that help us get our work done faster.
I built Excel University to help others learn Excel in order to get their work done faster.
At Excel University, I teach students all over the world how to use Excel more effectively.
Through my live sessions, courses, books, articles, videos, webinars, and blog, I provide training in as many different ways as possible in order to reach as many people as possible.
It is awesome that we have the technology that enables such training.
I hope the things you learn at Excel University will be helpful.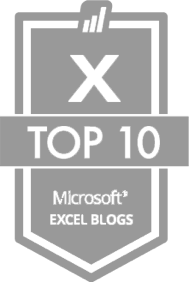 Jeff has published several books and dozens of Excel articles in various magazines.
To check out Jeff's full resume, awards, and recommendations, visit his LinkedIn profile.
To read about the journey of building Excel University, check out the origin story.
Additional Background
Highlights
Jeff began his career in the audit practice at Arthur Andersen's Orange County office. He was a senior financial analyst at Gateway computers and the accounting manager at Interpore Cross International. In 2000, he founded Click Consulting Inc., a technology consulting firm. In 2012, he launched Excel University.
Professional Involvement
He is a past president of the CalCPA OCLB Chapter, the former chair of the California CPA State Technology Committee, co-chair of the California CPA OCLB Chapter Technology Committee, a board member of the California CPA OCLB Chapter, on the California Society of CPAs Council, and an instructor for the AICPA and the California CPA Education Foundation. A Microsoft Office Certified Excel Expert, he is a nationally recognized speaker and Microsoft Certified Trainer. He was recently recognized with the California CPA Education Foundation's Award for Instructor Excellence and Outstanding Webcast Instructor.
Journey to Excel University
Jeff Lenning's dad is an accountant with a traditional tax practice. Following in his father's footsteps, Jeff enrolled at the University of Southern California where he was an accounting major. He also played trumpet in the Trojan marching band!
Since pizza is one of his passions in life, he agreed to attend the Accounting Society meeting on campus, where their main recruiting tool was free pizza. At the meeting, he was introduced to the, then, Big 6. Upon graduation, Jeff was set with a great job at Arthur Andersen. While at Arthur Andersen, Jeff became certified as a CPA and did audit work for four years. Since technology was his passion, Jeff would take on all the technology engagements he could.
The Technology Industry
When an opportunity arose to make a switch into the tech industry, he took a job with Gateway Computers in South Dakota and his journey into the technology industry had begun. "This was a great time in my life. I arrived in South Dakota with my girlfriend, Wendy. We quickly got married in Elk Point because, some may say I'm old fashioned but, we wanted to do things right. The midwest was a great place to live, and we loved our time there."
It's amazing how a personal fascination can lead to innovation. Becoming a CPA taught Jeff the painstaking process accountants went through on a daily basis. After all, the DILLY method (Do It Like Last Year) was what was used, and quite frankly, last year's methods were outdated.
While at Gateway, Jeff began to explore the depths of Microsoft Excel. "What a breath of fresh air! With Excel, I learned I could streamline processes and shorten two weeks' worth of work into two days. Moreover, once I did it, I had it forever. I could reuse, fine tune and build on what I created."
The Birth of Excel University
His fascination with Excel quickly turned to passion. He became a Microsoft Office Certified Excel Expert. Tweaking, learning, and streamlining processes led to major productivity gains. "When I realized what I managed to do, I was SO EXCITED. I shared it with friends and fellow CPAs. I wrote an article for the Journal of Accountancy, and received many nice emails. I love to help accounting professionals unlock efficiency with Excel."
"A mentor once told me, 'Whatever you love to do will always find its way back into your life.' This became a self-fulfilling prophecy for me." Jeff decided he would marry his accounting background with technology and provides online Excel training through Excel University.
Additional:
A past president of the CalCPA OCLB Chapter
The former chair of the California CPA State Technology Committee
Former co-chair of the California CPA OCLB Chapter Technology Committee
Former board member of the California CPA OCLB Chapter
Former California Society of CPAs Council member
An instructor for the AICPA and the California CPA Education Foundation
A Microsoft Office Certified Excel Expert
A nationally recognized speaker and trainer
Recipient of CalCPA Education Foundation's Award for Instructor Excellence
Microsoft Excel MVP